I am not I
I am this one
Walking beside me whom I do not see,
Whom at times I manage to visit,
And whom at other times I forget.
– Juan Ramon Jimenez
Rulik Perla, PhD, MFT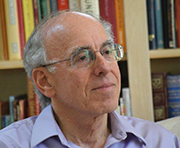 My professional work includes psychotherapy with clients in private practice, supervising and training therapy interns, and adding human dimension to the working of high-tech companies.
Since 2009, I have supervised individuals and groups at the Alameda Crisis Center and offered consultation for their group leaders. I also supervise both individuals and groups in my private practice and run a consultation group for recently licensed professionals who do not need supervision any more yet appreciate consultation and support in their new practice. Between 2010 and 2014, I supervised both individuals and groups at the JFK Holistic Counseling Center.
I was born in Israel in 1955 and grew up during several wars. As all Israelis I served in the army for three years. For my undergraduate work I studied Music and Philosophy at the Tel-Aviv University.
Later I became a software engineer and worked professionally on many aspects of software design in England, Belgium, Italy, Israel and the United States.
In 2002 I graduated from John F Kennedy University, with MS in Counseling Psychotherapy and found my vocation.
I trained and mentored with Eric Greenleaf PH.D, Stephen Gilligan PH.D, and Gary Hoeber MFT.
I am an associate of The Milton H. Erickson Institute of the Bay Area and a member of CAMFT.
My PhD in Clinical Psychology from Meridian University can be reviewed here.
Teaching and Supervision with Rulik Perla, PhD, MFT
Teaching Courses
Enhancing our Therapeutic Toolbox – 8 weeks training series for therapists (4 hours each week) on a variety of therapy tools that can help work in any modality. Fall 2020, fall 2021
Brief Therapy methods and techniques – One day introduction and demonstration of various approaches to trauma. Emphasis on Ericksonian therapy. 2016, Mexico
Couples Therapy – One day training to therapists, focused on experiential approach and including NVC introduction. Yearly, in various locations in Mexico, since 2018
Dissociation – 3 hours introductory training to therapy interns – online, 2020
Psychotherapy and Spirituality – 3 hours training for therapy interns. Oakland CA, yearly 2012-2018
Facilitating Group Therapy – 3 hours training for therapy interns. Oakland CA, yearly 2012-2018
Working with Multi-Cultural Couples – 3 hours training for therapy interns. Oakland CA, yearly 2012-2016
Using Mythology in Psychological work – 3 months community college course. 2 hours weekly classes. Introducing Mythology, mainly the Greek Pantheon, as psychological archetypes that enable inner work. Yuba County, 2004
Recognizing the Inner Multiplicity – 8 weeks training for therapists, on recognizing parts, accepting inner contradictions and learning to talk with parts. Online, 2020
Supervision
Alameda County Crisis Center:
Individual supervision: 2009-2020
Training and supervision of therapy group facilitators: 2012-2020
Monthly 2 hour meeting with the associates that lead groups
John F. Kennedy Center for Transpersonal Psychotherapy:
Individual supervision: 2010 – 2014
Weekly 1 hour individual meeting with two interns each year
Group Supervision: 2011 – 2014
Weekly 2 hour meeting with a group of 8 each year
Private Practice:
Individual MFT associates supervision in private practice: 2009 – current
Group Supervision: One or two weekly groups: 2014 – current